Next Version Preview
This is preview software intended to provide you with an opportunity to test-drive new builds of the next SmartGit release. We do not guarantee that these builds will run without errors. You use this software at your own risk!
If you need a stable version, you are welcome and encouraged to download and use the
latest release version
.
Download for Windows
Windows 7+ (64-bit), Git, Installer
Size: 92,695,664 Bytes
SHA-1: 63cca826987766459f8bcbd337018146065bc45e
Portable Bundle
Windows 7+ (64-bit), Git, Archive (7z)
Size: 84,169,150 Bytes
SHA-1: 5079409454449a23fd19a2a86f5bb6cfa6e575d5
Download for macOS
macOS 10.11 - 10.14, Git, Archive (dmg)
Size: 81,024,500 Bytes
SHA-1: 2a477b7b5b73a955da74e1cdc2e5e7fd9940c71d
Download for Linux
Linux (64-bit), Archive (tar.gz)
Size: 48,981,425 Bytes
SHA-1: 2df554ff91fcb543bc80a1489ee1bbc8c4124889
Debian Bundle
Linux (64-bit), Archive (deb)
Size: 48,981,806 Bytes
SHA-1: f62ff99e924112b905cc08a3835be67bcfbe6f6d
Note
This preview version is a "rolling" release so it will require direct internet access to download the latest patches.
You can install and use the preview version in parallel to the release version, in this case:
For Windows, make sure to use the Portable bundle. The installer won't work for such a setup.
The preview version (except of the portable Windows bundle) will initially copy the settings from the release version, but writes them to its own settings directory. This means that settings of both versions will diverge.
What's new in SmartGit 19.1 preview 5?
Performance, Performance, Performance
In this release we concentrate on performance improvements, especially for the log.
Improved dark theme
On Windows 10 the dark theme now also supports dark title bar, menu bar, scrollbars. If the Windows 10's default app mode is configured to be dark, the context menus are also dark.
Improved Commits view
If your repository is in a special state (rebasing, merging, cherry-picking, bisecting, ...), a banner indicates it clearly and offers context-dependent commands.
For rebases now see the done and pending commits at one glance.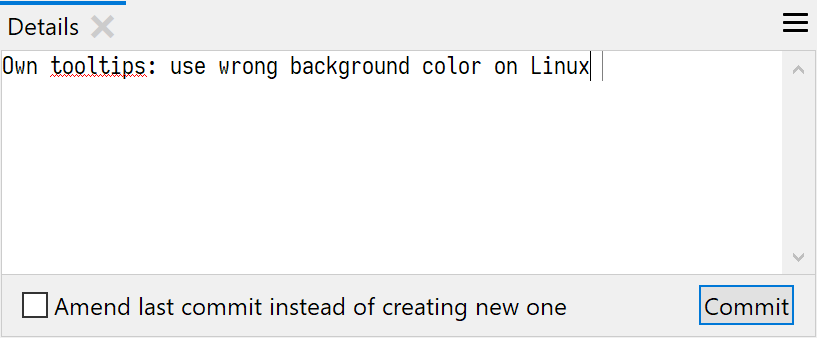 Combined Details/Commit Message view
The Details and Commit Message view of the Log window have been unified now to save screen space. Simple commits can be done right from this view.
In the Commit Message view of the Working Tree window also allows committing directly now without using the (still available, more feature rich) dialog.
Linux
For Linux a couple of GUI related bugs could be fixed and the dark theme could be fine-tuned (table headers, selection colors, carets).
Experimental support for deleting to trash (without the need of additional tools) has been added to Linux.