Next Version Preview
This is preview software intended to provide you with an opportunity to test-drive new builds of the next SmartGit release. We do not guarantee that these builds will run without errors. You use this software at your own risk!
If you need a stable version, you are welcome and encouraged to download and use the
latest release version
.
Download for Windows
Windows 7+, Installer
Size: 93,388,852 Bytes
SHA: 2f12b2f1dec3e7afa51f88441a0ebe956e8b7302
Portable Bundle
Windows 7+, Archive (7z)
Size: 86,674,829 Bytes
SHA: bc069acc2c0259c2399f8bbd010a957b019a09e2
Download for macOS
macOS 10.9 - 10.13, Archive (dmg)
Size: 88,747,539 Bytes
SHA: 72855deffb82c0c6e76999633099efa09b790894
Download for Linux
Linux, Archive (tar.gz)
Size: 68,005,309 Bytes
SHA: 28e6cab7303848492e90a9a8322678eaaa52d6c4
Debian Bundle
Linux, Archive (deb)
Size: 24,271,592 Bytes
SHA: 050a520b00e0e6180848b3cebbd0b342c5003874
Note
This preview version is a "rolling" release so it will require direct internet access to download the latest patches.
You can install and use the preview version in parallel to the release version, in this case:
For Windows, make sure to use the Portable bundle. The installer won't work for such a setup.
The preview version (except of the portable Windows bundle) will initially copy the settings from the release version, but writes them to its own settings directory. This means that settings of both versions will diverge.
What's new in SmartGit 18.1 preview 7?
Reworked Log and Journal
The Log and Journal have been rewritten to improve the performance, especially for large logs. The default log coloring now uses a dedicated color for each selected refs (unless there are too much). This was one of the high-priority topics from smartgit.userecho.com.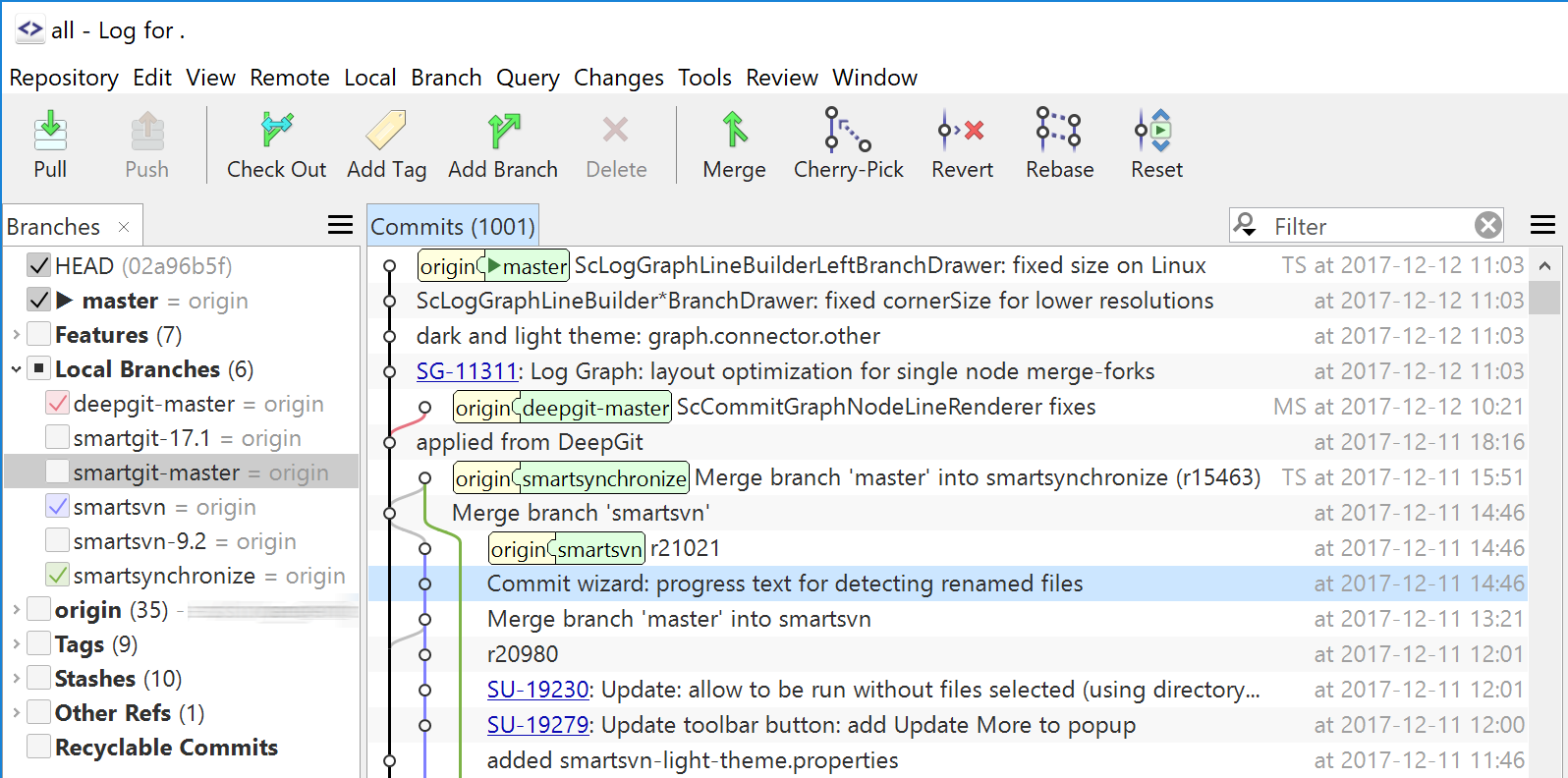 Reworked Compare
The compare algorithm has been improved to detect in-line changes over the entire block (not just line-wise as in earlier versions). This works faster and gives better results, e.g., for reformatted code blocks.

Bisect
SmartGit now makes searching a commit that introduced a bug more easier by supporting the bisect command. This also is a often requested feature at smartgit.userecho.com.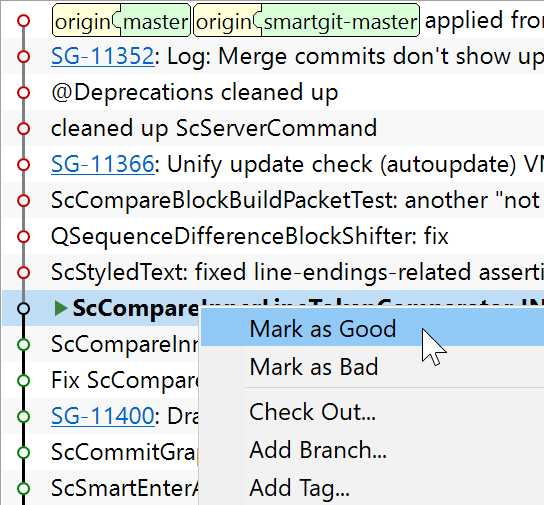 Find Action, Find Object
These commands are perfect for keyboard-savvy users to quickly access menu items, repositories, switch branches or show the log for commits.