Next Version Preview
Usually, SmartGit preview versions are quite reliable (we use them on a daily basis).
However - as it is the case with other previews - they may have problems. Should you encounter such a problem, please report it to the
development-team
.
You can safely use a preview version side-by-side with the
release version
.
Download for Windows
Windows 7+ (64-bit), Installer
Size: 102,283,729 Bytes
SHA-1: 66426162f8a60b0bb97a3e9212c69e41340b2c25
Portable Bundle
Windows 7+ (64-bit), Archive (7z)
Size: 94,098,280 Bytes
SHA-1: 0f3882bc96f0858d0e7d08abf61824cd1991e9ff
Download for macOS
macOS 10.13 - 13, Archive (dmg)
Size: 81,031,397 Bytes
SHA-1: 18dd0719f98b7b2e0d1b22fe2dd1cee1e18f9ff6
Bundle for ARM64/M1
macOS 11 - 13, Archive (dmg)
Size: 80,249,727 Bytes
SHA-1: ba33da12f4ab54f9fcee8406d4bbfb8e4a66f744
Download for Linux
Linux (64-bit, GTK 3.20+), Archive (tar.gz)
Size: 105,368,166 Bytes
SHA-1: 9c38ebae471d804e0edcd8a52fc127c221679085
Note
This preview version is a "rolling" release so it will require direct internet access to download the latest patches.
You can install and use the preview version in parallel to the release version, in this case:
For Windows, make sure to use the Portable bundle. The installer won't work for such a setup.
The preview version (except of the portable Windows bundle) will initially copy the settings from the release version, but writes them to its own settings directory. This means that settings of both versions will diverge.
What's new in SmartGit 23.1 preview 2?
Standard window: Reorder Tabs
Use drag and drop to reorder repository tabs in the Standard window.

Standard window: Support Multiple Main-Branches
Usually, there is one main development branch (e.g. develop), but sometimes there is a need for further release branches (e.g. release-2.1). These branches, as well as the feature branches prefix, can be configured now.
Standard window: Intuitive Branch/Tag Compare
Comparing two repository states defined by their branches (or tags), is as easy as selecting both of them in the All Branches+Tags list.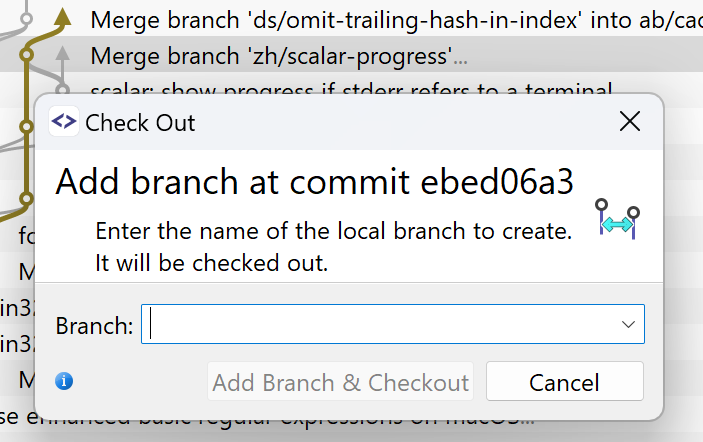 Standard window: Checkout a Commit Creates (temp) Branch
Checking out a commit usually leaves the user in a state where further (new) commits easily can be lost. To avoid that, when checking out a commit in the Standard window, a (temporary) branch is created.
Standard window: Group Files by State
If you prefer to see all instead of just the changed files, you can now select "Group by State" to see modified states on top of the file list.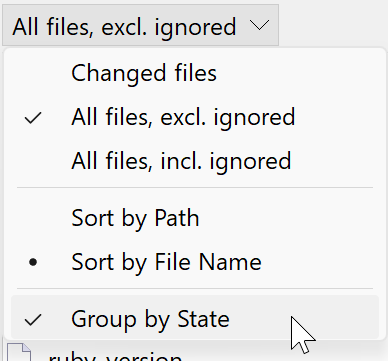 Standard window: Path Support in Filter
On the repositories tab you can filter repositories by path, add existing or initialize new repositories.
Improved Clean Working Tree
The options for the Clean Working Tree command are now easier to understand.