Next Version Preview
This is preview software intended to provide you with an opportunity to test-drive new builds of the next SmartSynchronize release. We do not guarantee that these builds will run without errors. You use this software at your own risk!
If you need a stable version, you are welcome and encouraged to download and use the
latest release version
.
Download for Windows
Windows 7+ (64-bit), Installer
Size: 20,213,461 Bytes
SHA-1: 122b9f9e1e7178281b7147f13081e8f3eb3b9bf5
Portable Bundle
Windows 7+ (64-bit), Archive (7z)
Size: 19,761,136 Bytes
SHA-1: 5cdd8460f3d12fa7dc8ab238a2c6a78f17a42133
Download for macOS
macOS 10.11 - 10.14, Archive (dmg)
Size: 23,462,836 Bytes
SHA-1: 8351bce8d2db877a25b39ad95980a77973f18366
Download for Linux
Linux (64-bit), Archive (tar.gz)
Size: 32,397,903 Bytes
SHA-1: 9901fdf7394a008fef750e6eb4de46d7c8722ad2
Debian Bundle
Linux (64-bit), Archive (deb)
Size: 32,391,020 Bytes
SHA-1: 97e5b3d7e3d4045e638294fc00376b6dbef3a701
Note
This preview version is a "rolling" release so it will require direct internet access to download the latest patches.
You can install and use the preview version in parallel to the release version, in this case:
For Windows, make sure to use the Portable bundle. The installer won't work for such a setup.
The preview version (except of the portable Windows bundle) will initially copy the settings from the release version, but writes them to its own settings directory. This means that settings of both versions will diverge.
What's new in SmartSynchronize 4 RC 2?
Dual-Pane File Manager
SmartSynchronize 4 comes with a built-in dual-pane file manager ("commander") which can be used to easier select files and directories to compare, but also use for daily file tasks. There is (nearly) no usable dual-pane file manager available that works on all major platforms (Linux, macOS and Windows), so we decided to write one.
You can copy, move, delete, pack and unpack archives (zip, tar.gz are supported directly, 7z needs a 7z executable), view, open in editors or terminal.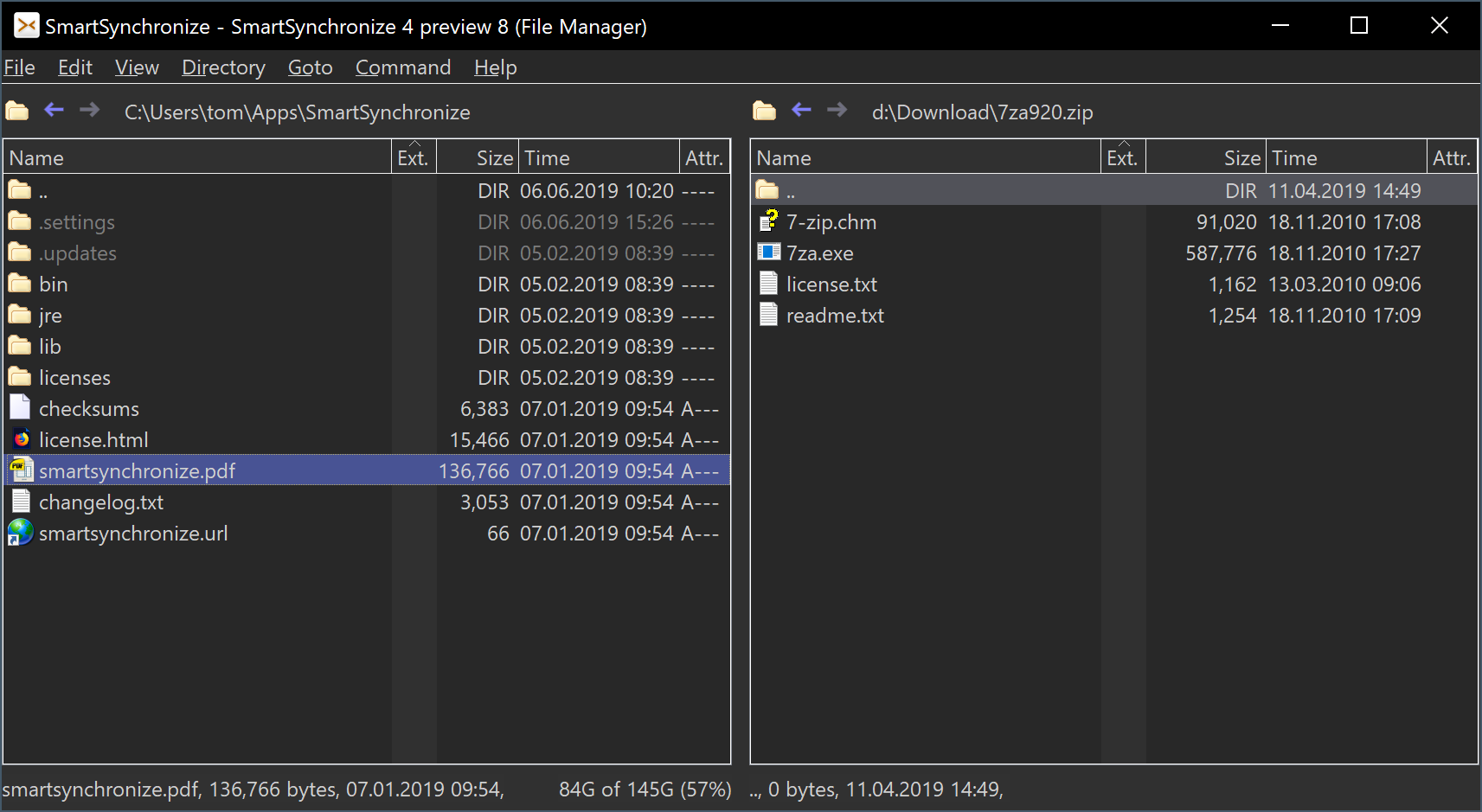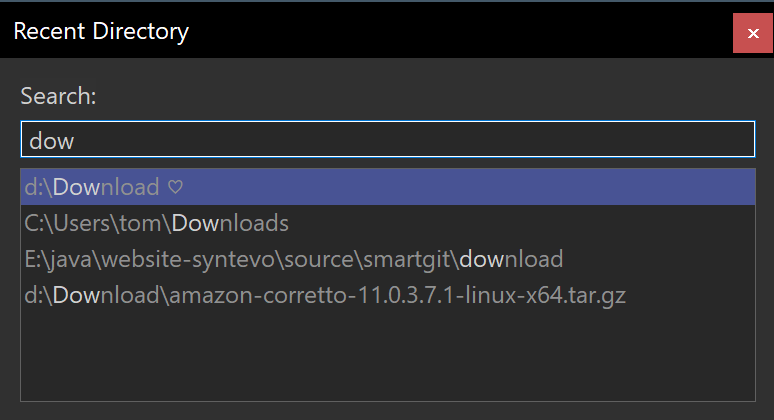 Recent directory history (Ctrl+P), Favorites
For file managers quick navigation to often used directories is a key feature. SmartSynchronize supports favorites, but also remembers recently visited directories, so it becomes easy to navigate to them by starting to type the name.
Path-specific Sortings
As with any other file manager, you can sort by name, extension, file size or last modification time. But SmartSynchronize also can remember a special sorting for certain paths. So for example, the Downloads directory is sorted by last modification time while other directories are sorted by extension.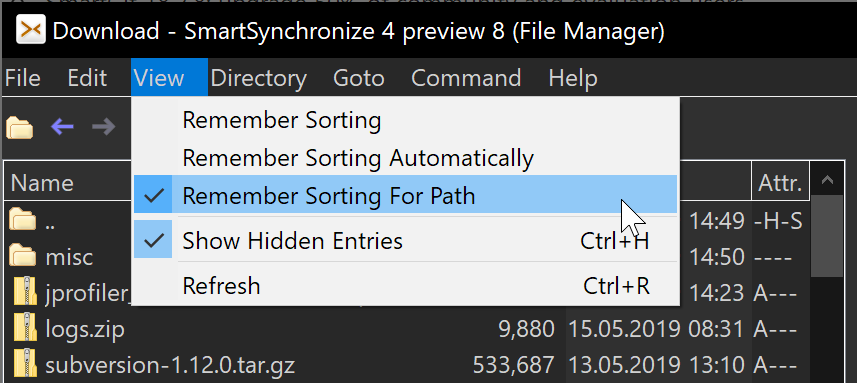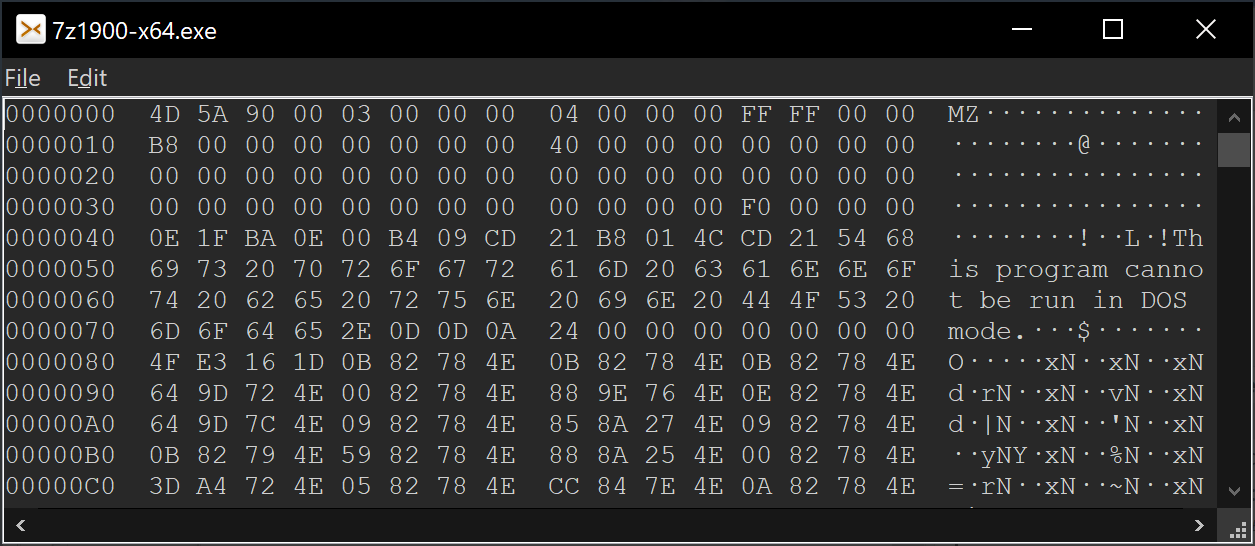 File Viewer
A simple file viewer (text and binary) lets you take a quick glimpse inside files.
Find Files or Directories
A simple find feature allows you to find files by name or (text) content, or subdirectories by name.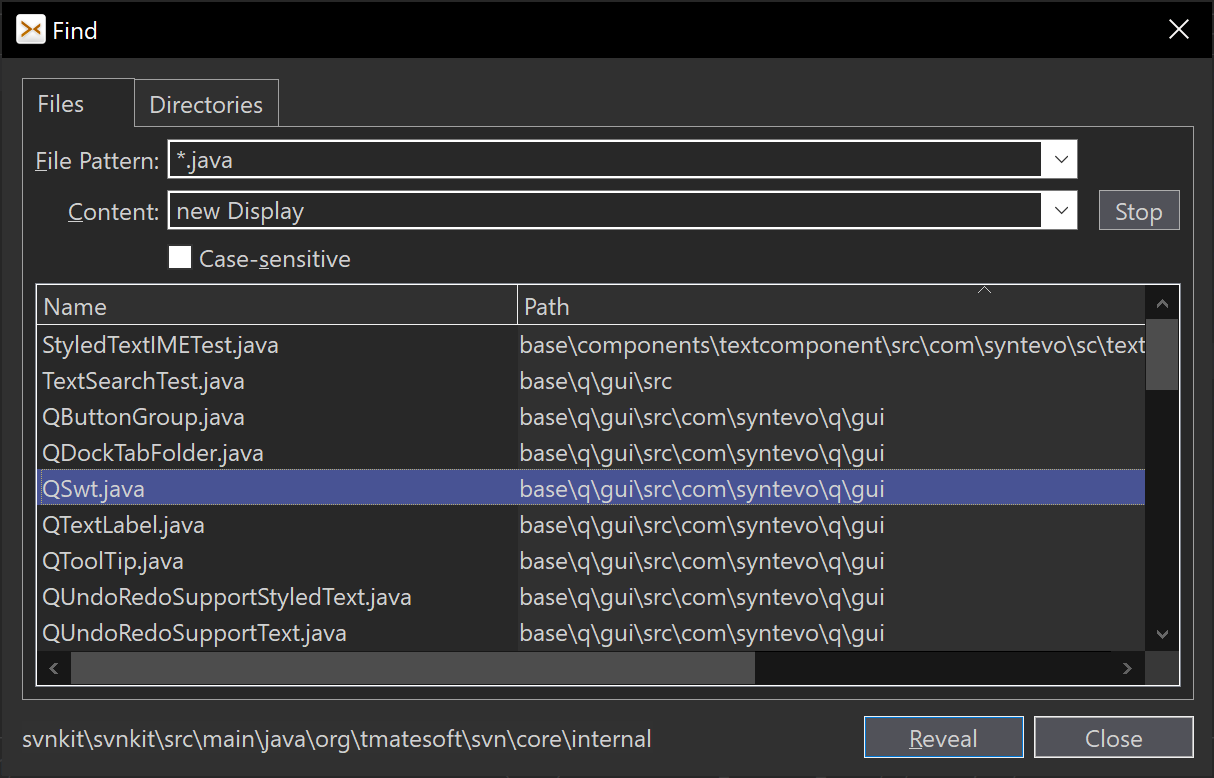 Tool Integrations
A few of the default features are made with the help of external tools. So it becomes easy to modify the command to open a Terminal window or what editor is used.
Customizable Shortcuts
We focus on power users who prefer keyboard usage and know the well-known "commander" shortcuts. Use the cursor keys to navigate directories and archive contents ("lynx-like motion").
If you are accustomed with other shortcuts, feel free to change them to your preferred ones.